Home»Windows»Choosing Replacement Windows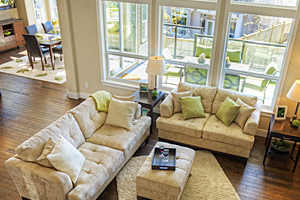 Affordable remodeling. Window replacement is a cost-effective way to give your home a fresh look.
There are several different options to consider when choosing the right replacement windows for your home. Having the proper replacement windows installed can increase your home's comfort, beauty and value.
Different materials offer unique benefits depending on what you are looking for. Choosing the best replacement windows doesn't have to be complicated – let us help!
G&G Restoration offers products from the nation's leading window manufacturers and we provide the highest quality installations to ensure a perfect fit every time.
Pros and cons of different frame materials
Wood – Insulates well, provides natural beauty, regular maintenance required, however, they expand and contract due to certain weather conditions. People often choose wood windows because of their visual attributes.
Vinyl – Replacement windows made from vinyl provide excellent insulation and are low maintenance, strong, and moisture resistant. Most vinyl windows are made of polyvinyl chloride with ultraviolet light stabilizers to prevent sunlight from breaking down material. Vinyl windows are also highly energy efficient, provide noise reduction, and are easily bent into shapes.
Aluminum – Aluminum windows are maintenance-free and extremely durable yet light. While aluminum windows are known to conduct heat and transfer cold air easily, newer-style aluminum frames can have a "thermal break" inserted, which can reduce heat flow.
Fiberglass – Fiberglass windows have insulating properties similar to wood and vinyl. With fiberglass replacement windows, there is moderate maintenance required, but they are also durable and can be painted to match indoor décor.
Choose the right style replacement windows
We also offer different styles of windows that are sure to add curb appeal and functionality to your home. Often times, old windows lose many of their functional properties, such as keeping your home well insulated. They can begin to get stuck and not be able to open or close. Choosing the right kind of window for your home is based on certain properties, which our technicians can guide you through.
G&G Restoration installs a variety of styles of replacement windows, including casement, double-hung, picture and more.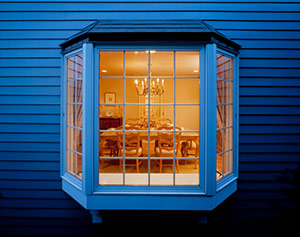 Not all windows are created equal. While the window style may look the same from company to company, the glass and materials used can differ. Make sure you are getting only the best!
Understanding all your options for energy-efficient windows
While the material of the window frame makes a difference, the energy efficiency of your replacement windows is mostly determined by the glass that is used.
There are some basic energy efficiency features that can help give you a more comfortable home and potentially lower your utility costs:
Low-E glass – Low-emissive, or Low-E window glass is manufactured with an invisible metal or metallic oxide coating to create a surface that reflects heat, while allowing light to pass through. Low-E windows are proven to increase energy efficiency, decrease fading of fabrics, and increase the overall comfort in your home.
Argon-filled glass – Argon is a non-toxic, odorless gas that is used in glass windows to prevent condensation and frost from forming on the window and provide improved soundproofing. Argon gas is filled between the panes of glass in a sealed unit to increase energy efficiency.
All ENERGY STAR windows feature a label with energy performance ratings from the National Fenestration Rating Council (NFRC). The label tells homeowners and contractors how well their windows will perform under numerous conditions:
U-value measures how well the window protects against heat loss.
Solar heat gain coefficient (SHGC) measures how much heat from the sun is allowed to enter through the glass.
Visible transmittance measures how much visible light can pass through the glass.
For U-value and SHGC, the lower the number, the better the window's energy performance.
Get advice from your local window experts
If you know you want to replace your old windows, but aren't sure where to start, we can help! We can provide suggestions on the right wood, fiberglass, aluminum or vinyl windows to fit your style and budget.
Contact us today to schedule an in-home design consultation and free estimate! Our window replacement coverage area includes Shawnee, Olathe, Kansas City, Overland Park, Lees Summit, Leawood, Lenexa, Blue Springs, Independence, Leavenworth and many surrounding areas of Missouri and Kansas.
Looking for a price? Get a no cost, no obligation free estimate.